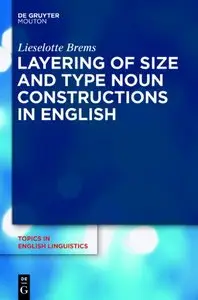 Lieselotte Brems, "Layering noun constructions Tiel 74 (Topics in English Linguistics)"
ISBN: 3110252910 | 2012 | PDF | 424 pages | 4.7 MB
On the basis of synchronic and diachronic data analysis, the volume takes a close look at the synchronic layers of binominal size noun and type noun uses (a bunch/a load of X; a sort of X; a Y type of X) and reconsiders the framework of grammaticalization in view of issues raised by the phrases under discussion. As a result, a construction grammar-approach to grammaticalization is developed which does justice to the syntagmatic lexical, or collocational, reclustering observed in the data within an eclectic cognitive-functional approach.
No Mirrors Please!!!

Please inform me if link is dead!