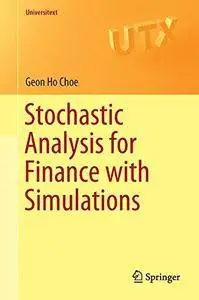 Stochastic Analysis for Finance with Simulations (Universitext) by Geon Ho Choe
English | 31 July 2016 | ISBN: 3319255878 | 692 Pages | PDF | 11.96 MB
This book is an introduction to stochastic analysis and quantitative finance; it includes both theoretical and computational methods. Topics covered are stochastic calculus, option pricing, optimal portfolio investment, and interest rate models. Also included are simulations of stochastic phenomena, numerical solutions of the Black–Scholes–Merton equation, Monte Carlo methods, and time series. Basic measure theory is used as a tool to describe probabilistic phenomena.