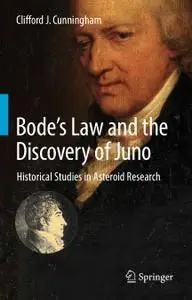 Clifford J. Cunningham, "Bode's Law and the Discovery of Juno: Historical Studies in Asteroid Research"
2017 | ISBN-10: 3319328735 | 309 pages | EPUB, PDF (reup) | 23 MB
Johann Bode developed a so-called law of planetary distances best known as Bode's Law. The story of the discovery of Juno in 1804 by Karl Harding tells how Juno fit into that scheme and is examined as it relates to the philosopher Georg Hegel's 1801 thesis that there could be no planets between Mars and Jupiter. By 1804 that gap was not only filled but had three residents: Ceres, Pallas and Juno!