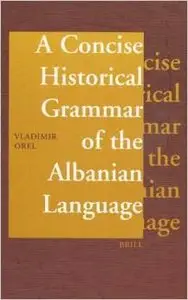 A Concise Historical Grammar of the Albanian Language: Reconstruction of Proto-Albanian by Vladimir E. Orel
English | Mar 1, 2000 | ISBN: 9004116478 | 332 Pages | PDF | 2 MB
This work addresses the historical development of the Albanian language from prehistoric times to the 21st century. The main focus of the book is the reconstruction of Proto-Albanian, the analysis of its relations to its ancestor, Indo-European, and its further change leading to Albanian in its present form. The volume contains a detailed description of historical phonetics and morphology of Albanian. The reader will also find important data on the Albanian vocabulary in its historical development. Together with the author's "Albanian Etymological Dictionary", the work can be used as a research tool for Albanologists, Balkanologists and historical linguistics.