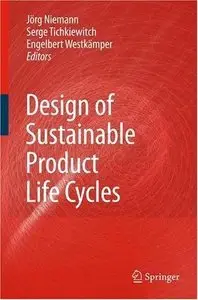 Jörg Niemann, Serge Tichkiewitch and Engelbert Westkämper, "Design of Sustainable Product Life Cycles"
Sp ger | 2008 | ISBN: 3540790810 | 301 pages | PDF | 17 MB
Life cycle design is understood as "to develop" (to plan, to calculate, to define, to draw) a holistic concept for the entire life cycle of a product". Life cycle design means a one time planning during the concept phase of a product in which the pathway of a product over the entire life cycle is determined. So e.g. the planning of possible services for a product during its utilization phase, the way of material recycling, how and which parts can be reused, how the logistics for recycling will be organised or how the product can be used afterwards. So it is a conceptual pre-design of all later activities over the life cycle.
By this understanding the book delivers a really holistic approach because before a product is physically made a life-long concepts and utilization scenarios with closed material and information cycles have to be developed. This promotes a real "thinking in product (life) cycles".
The book addresses professionals as well as researchers and students in the field of product life cycle management. Different methods in the field of product design, operation and recycling will be presented and finally merge to an integrated method of product life cycle design. Readers will benefit from the holistic approach which enables them to design successful products by the implementation of closed loop product life cycles.
Download