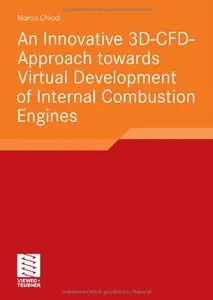 Marco Chiodi, "An innovative 3D-CFD-Approach towards Virtual Development of Internal Combustion Engines"
Vie-g+Teu-er | 2011 | ISBN: 3834815403 | 245 pages | PDF | 11,1 MB
In the engine development process, simulation and predictive programs have continuously gained in reliance. Due to the complexity of future internal combustion engines the application of simulation programs towards a reliable "virtual engine development" is a need that represents one of the greatest challenges.
Marco Chiodi presents an innovative 3D-CFD-tool, exclusively dedicated and optimized for the simulation of internal combustion engines. Thanks to improved or newly developed 3D-CFD-models for the description of engine processes, this tool ensures an efficient and reliable calculation also by using coarse 3D-CFD-meshes. Based on this approach the CPU-time can be reduced up to a factor 100 in comparison to traditional 3D-CFD-simulations. In addition an integrated and automatic "evaluation tool" establishes a comprehensive analysis of the relevant engine parameters. Due to the capability of a reliable "virtual development" of full-engines, this fast response 3D-CFD-tool makes a major contribution to the engine development process.
Download