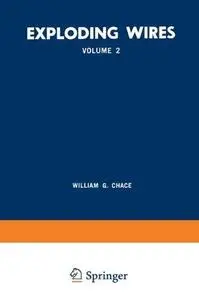 Exploding Wires: Volume 2 Proceedings of the Second Conference on the Exploding Wire Phenomenon, Held at Boston, November 13–15, 1961, under the Sponsorship of the Geophysics Research Directorate, Air Force Cambridge Research Laboratories, Office of By William G. Chace (auth.), William G. Chace, Howard K. Moore (eds.)
1995 | 321 Pages | ISBN: 146847507X | PDF | 12 MB
This volume contains the proceedings of the Second Conference on the Exploding Wire Phenomenon. In addition to the general theory of exploding wires, this conference considered exploding wire shock waves; the generation by exploding wires of extreme tem­ peratures, X-rays, and very high pressures; instrumentationprob­ lems in wire explosions; and, for the first time, exploding foils. Sponsored by the Geophysics Research Directorate ofthe Air Force Cambridge Research Laboratories, this symposium was held in Boston, Massachusetts, on November 13 and 14, 1961. To fill a definite need for ready access to information, Volume Two of Exploding Wires contains a comprehensive index which should facilitate the use of both volumes on the exploding wire phenomenon. It is not possible to express full appreciation to all those whose generous assistance made the Second Conference and this volume possible. It is certain, however, that without the cooperation of Dr. John N. Howard, Laboratory Chief, and Mr. Morton A. Levine, Branch Chief, there could have been no conference. Special ac­ knowledgment goes to the Staff of the Hydromagnetics Laboratory for its invaluable aid: to Mrs. William Watson for exceptional secretarial work; to Mr. E. H. Cullington for technical assistance; to Mr. C. V. Fish for drawings, graphs, and art work; and to Mr. K. R. Saari for photography. Particular gratitude is due to Mr.