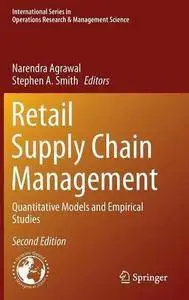 Retail Supply Chain Management: Quantitative Models and Empirical Studies (2nd edition) By Narendra Agrawal, Stephen A. Smith
2015 | 460 Pages | ISBN: 1489975616 | PDF | 4 MB
This new edition focuses on three crucial areas of retail supply chain management: (1) empirical studies of retail supply chain practices, (2) assortment and inventory planning and (3) integrating price optimization into retail supply chain decisions. The book has been fully updated, expanding on the distinguishing features of the original, while offering three new chapters on recent topics which reflect areas of great interest and relevance to the academic and professional communities alike - inventory management in the presence of data inaccuracies, retail workforce management, and fast fashion retail strategies. The innovations, lessons for practice, and new technological solutions for managing retail supply chains are important not just in retailing, but offer crucial insights and strategies for the ultimate effective management of supply chains in other industries as well. The retail industry has emerged as a fascinating choice for researchers in the field of supply chain management. It presents a vast array of stimulating challenges that have long provided the context of much of the research in the area of operations research and inventory management. However, in recent years, advances in computing capabilities and information technologies, hyper-competition in the retail industry, emergence of multiple retail formats and distribution channels, an ever increasing trend towards a globally dispersed retail network, and a better understanding of the importance of collaboration in the extended supply chain have led to a surge in academic research on topics in retail supply chain management. Many supply chain innovations (e.g., vendor managed inventory) were first conceived and successfully validated in this industry, and have since been adopted in others. Conversely, many retailers have been quick to adopt cutting edge practices that first originated in other industries. Retail Supply Chain Management: Quantitative Models and Empirical Studies, 2nd Ed. is an attempt to summarize the state of the art in this research, as well as offer a perspective on what new applications may lie ahead.