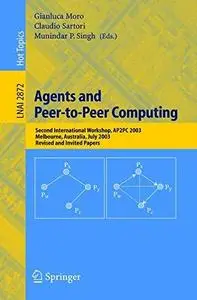 Agents and Peer-to-Peer Computing: Second International Workshop, AP2PC 2003, Melbourne, Australia, July 14, 2003, Revised and Invited Papers By Beng Chin Ooi, Wee Siong Ng, Kian-Lee Tan, AoYing Zhou (auth.), Gianluca Moro, Claudio Sartori, Munindar P. Singh (eds.)
2005 | 205 Pages | ISBN: 3540240535 | PDF | 3 MB
Peer-to-peer (P2P) computing is currently attracting enormous public attention, spurred by the popularity of file-sharing systems such as Napster, Gnutella, Morpheus, Kaza, and several others. In P2P systems, a very large number of autonomous computing nodes, the peers, rely on each other for services. P2P networks are emerging as a new distributed computing paradigm because of their potential to harness the computing power and the storage capacity of the hosts composing the network, and because they realize a completely open decentralized environment where everybody can join in autonomously. Although researchers working on distributed computing, multiagent systems, databases, and networks have been using similar concepts for a long time, it is only recently that papers motivated by the current P2P paradigm have started appearing in high quality conferences and workshops. In particular, research on agent systems appears to be most relevant because multiagent systems have always been thought of as networks of autonomous peers since their inception. Agents, which can be superimposed on the P2P architecture, embody the description of task environments, decision-support capabilities, social behaviors, trust and reputation, and interaction protocols among peers. The emphasis on decentralization, autonomy, ease, and speed of growth that gives P2P its advantages also leads to significant potential problems. Most prominent among these are coordination – the ability of an agent to make decisions on its own actions in the context of activities of other agents, and scalability – the value of the P2P systems in how well they self-organize so as to scale along several dimensions, including complexity, heterogeneity of peers, robustness, traffic redistribution, etc.This book brings together an introduction, three invited articles, and revised versions of the papers presented at the Second International Workshop on Agents and Peer-to-Peer Computing, AP2PC 2003, held in Melbourne, Australia, July 2003.