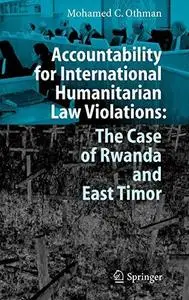 Accountability for International Humanitarian Law Violations: The Case of Rwanda and East Timor By Mohamed Chande Othman
2005 | 384 Pages | ISBN: 3540260811 | PDF | 23 MB
The book is a critical review of accountability conducted under the authority of the United Nations Security Council, by the International Criminal Tribunal for Rwanda (ICTR), and the United Nations Transitional Administration in East Timor (UNTAET). It is centred on two case studies: the 1999 events in Rwanda, and the 1999 mayhem in East Timor. The books subjects to testing cross-examination tools to hold accountable persons with "the greatest responsibility" for serious international humanitarian law violations.