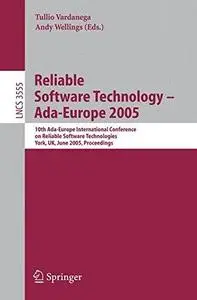 Reliable Software Technology – Ada-Europe 2005: 10th Ada-Europe International Conference on Reliable Software Technologies, York, UK, June 20-24, 2005. Proceedings By Neville Rowden (auth.), Tullio Vardanega, Andy Wellings (eds.)
2005 | 276 Pages | ISBN: 3540262865 | PDF | 3 MB
Started on the inspired initiative of Prof. Alfred Strohmeier back in 1996, and spawned from the annual Ada-Europe conference that had previously run for 16 consecutive years, the International Conference on Reliable Software Technologies celebrated this year its tenth anniversary by going to York, UK, where the ?rst series of technical meetings on Ada were held in the 1970s. Besides being a beautiful and historical place in itself, York also hosts the Depa- ment of Computer Science of the local university, whose Real-Time Group has been tremendously in?uential in shaping the Ada language and in the progress on real-time computing worldwide. This year's conference was therefore put together under exc- lent auspices, in a very important year for the Ada community in view of the forthc- ing completion of the revision process that is upgrading the language standard to face the challenges of the new millennium. The conference took place on June 20–24, 2005. It was as usual sponsored by Ada-Europe, the European federation of national Ada societies, in cooperation with ACM SIGAda. The conference was organized by selected staff of the University of York teamed up with collaborators from various places in Europe, in what turned out to be a very effective instance of distributed collaborative processing. The conference also enjoyed the generous support of 11 industrial sponsors.