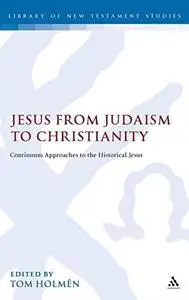 Jesus from Judaism to Christianity: Continuum Approaches to the Historical Jesus By Tom Holmén (editor)
2007 | 192 Pages | ISBN: 0567042146 | PDF | 19 MB
One of the characteristic pursuits of the current phase of historical Jesus research, the so-called Third Quest, has been the serious attempt to locate Jesus within first-century CE Judaism, to seek a Jesus who could be found plausible within his Jewish context. Comparatively less emphasis has been laid on the question as to whether or how the contextually plausible picture of Jesus also suits and accounts for the history of the reception of Jesus in early Christianity. By integrating the Jewish context, the teaching of Jesus and Christian reception history into one explanation, the continuum perspective seeks to reveal a Jesus who would both be fitting within his Jewish context and would also help to explain and understand early Christian stances. Thus, according to this perspective, a historically plausible picture of Jesus is one that can be placed in the Judaism-Christianity continuum.