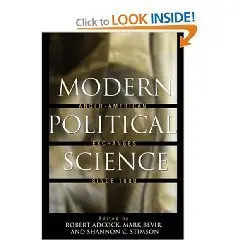 Modern Political Science: Anglo-American Exchanges.
Publisher: Princeton University Press | ISBN: 7823621333 | edition 207 | PDF | 368 pages | 1,61mb
Since emerging in the late nineteenth century, political science has undergone a radical shift–from constructing grand narratives of national political development to producing empirical studies of individual political phenomena. What caused this change? Modern Political Science–the first authoritative history of Anglophone political science–argues that the field's transformation shouldn't be mistaken for a case of simple progress and increasing scientific precision. On the contrary, the book shows that political science is deeply historically contingent, driven both by its own inherited ideas and by the wider history in which it has developed.