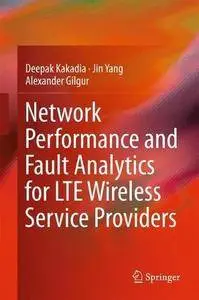 Network Performance and Fault Analytics for LTE Wireless Service Providers by Deepak Kakadia
English | 14 Nov. 2017 | ISBN: 8132237196 | 204 Pages | PDF | 5.97 MB
This book is intended to describe how to leverage emerging technologies big data analytics and SDN, to address challenges specific to LTE and IP network performance and fault management data in order to more efficiently manage and operate an LTE wireless networks. The proposed integrated solutions permit the LTE network service provider to operate entire integrated network, from RAN to Core , from UE to application service, as one unified system and correspondingly collect and align disparate key metrics and data, using an integrated and holistic approach to network analysis. The LTE wireless network performance and fault involves the network performance and management of network elements in EUTRAN, EPC and IP transport components, not only as individual components, but also as nuances of inter-working of these components. The key metrics for EUTRAN include radio access network accessibility, retainability, integrity, availability and mobility. The key metrics for EPC include MME accessibility, mobility and capacity, SGW, PGW capacity and connectivity. In the first parts of the book, the authors describe fundamental analytics techniques, and various key network partitions - RAN, Backhaul, Metro and Core of a typical LTE Wireless Service Provider Network. The second part of the book develops more advanced analytic techniques that can be used to solve complex wireless network problems. The second part of this book also describes practical and novel solutions for LTE service network performance and fault management systems using big data engineering. Self-organizing network (SON) architecture is presented as a way to utilize network performance and fault analytics to enable network automation. SON can significantly improve operational efficiencies and speed up network deployment. This book provides various ways to leverage data science to more intelligently and reliably to automate and manage a wireless network. The contents of the book should be useful to professional engineers and networking experts involved in LTE network operations and management. The content will also be of interest to researchers, academic and corporate, interested in the developments in fault analytics in LTE networks.