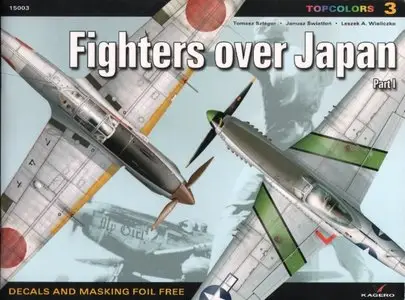 Fighters Over Japan: Part1 (Kagero Topcolors 15003)
Kagero | 2007 | ISBN-10: 8360445788 | ISBN-13: 978 8360445785 | English/Polish |35 Pages | PDF | 47,7 MB
Includes a brief overview of the principle aircraft types and their color schemes plus an extensive range of 30 full color profiles/plan views illustrating 24 aircraft. Features: P-51s (45th, 46th, 78th, 384th, 458th and 462nd FS), P-47s (19th, 73rd, 333rd, 437th and 463rd FS), Ki-84s (47th and 51st Sentai), Ki-44s (47th and 246th Sentai), Ki-61 (18th, 56th and 244th Sentai) and a Ki-46 (18th Hikoshidan). Also Includes bonus decals and painting masks in 1/48 and 1/32 scales. English text with English and Polish captions.