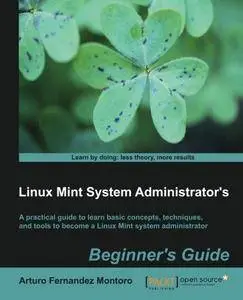 Linux Mint System Administrator's Beginners Guide By Arturo Fernandez Montoro
2012 | 146 Pages | ISBN: 1849519609 | EPUB | 8 MB
Probably the fastest route to becoming a Linux Mint system administrator, this book takes you from A–Z with clear step-by-step instructions, ranging from basic installation, to configuring networks, to troubleshooting. The perfect primer. A concise Packt Beginner's Guide to get you started with administering a Linux Mint system. This book is for those users who want to become Linux Mint system administrators and need to start learning quickly. It's assumed that you have a basic knowledge of GNU/Linux operating systems, as well as being familiar with concepts, such as kernel, filesystems, users, accounts, groups, and disk partitions.