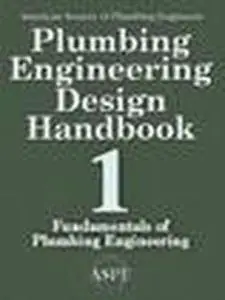 Plumbing Engineering Design Handbook - A Plumbing Engineer's Guide to System Design and Specifications, Volume 1 - Fundamentals of Plumbing Engineering By
2009 | 711 Pages | ISBN: 189125510X | PDF | 12 MB
This Handbook is designed to provide accurate and authoritative information for the design and specification of plumbing systems. This book contains 13 chapters including such topics as formulas, symbols, and terminology; standards for plumbing materials and equipment; plumbing cost estimates; energy and resource conservation in plumbing systems; corrosion; seismic protection; and acoustics. This important reference will benefit engineers, plumbing system designers, plumbing officials, architects, plant engineers, inspectors, journeymen, students, contractors, and builders.