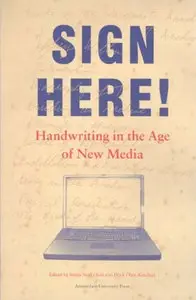 Sign Here!: Handwriting in the Age of New Media by Sonja Neef, Jose van Dijck, Eric Ketelaar
Publisher: Amsterdam University Press | Number Of Pages: 288 | Publication Date: 2006-10-15 | ISBN-10: 9053568166 | PDF | 1 Mb
Will handwriting survive the evolution of digital media? Sign Here explores the changing role of manual writing in a world of e-mail, text messaging, and other digital technology. In a series of fascinating essays, media scholars examine the changing concepts of originality, authenticity, and uniqueness—both culturally and legally—as digital media continue to rapidly expand.