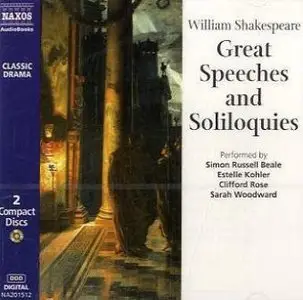 Great Speeches and Soliloquies (Classic Literature with Classical Music) (Audiobook) By William Shakespeare, read by Simon Russell Beale, Estelle Kohler and more
Publisher: Na..x..os Aud.iob.ooks; Abridged edition 1994 | 2 hours and 7 mins | ISBN: 9626340150 | MP3 | 122 MB
Many of Shakespeare's greatest and best-loved speeches are brought together in this superb collection, performed by outstanding artists.
!!!No Mirrors below, please! Follow Rules!