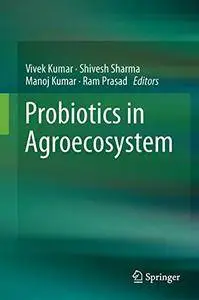 Probiotics in Agroecosystem by Vivek Kumar
English | 11 Oct. 2017 | ISBN: 9811040583 | 537 Pages | PDF | 6.45 MB
This book focuses on food security in sustainable agriculture and nutrient management. The study of plant probiotic microbes' synergism using existing techniques has greatly improved our grasp of the structure and functioning of the plant microbiome. However, the function of plant probiotic microbes and their relation to plants' health in the context of food security, soil nutrient management, human and plant health are largely unexplored. Compared to human probiotics, diverse types and millions of microbiota inhabit plants, forming multifaceted and complicated ecological societies that stimulate plant growth and health through their combined metabolic activities. From the perspective of sustainable cropping systems, observing plant probiotics can provide insights on how to stimulate and maintain plant productivity, along with host stress tolerance and recycling of soil nutrients. This book combines reviews and original research articles to highlight the latest advances in plant probiotics, their specificity, diversity, function, as well as plant microbiome management to improve plant growth and productivity, nutrient management and human health.