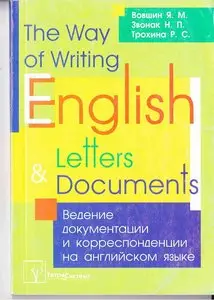 Vovshin Y. M., "The Way of Writing English Letters and Documents"
TetraSistems | 2003 | ISBN: 9854701344 | 208 pages | PDF | 13,2 MB
This manual is intended to improve writing skills, in particular, of correspondence and processing of legal documents in English. Benefit is provided with a set of exercises that allow for English language tuition to organize group work, to conduct role play, lead the discussion.
The annex presents a variety of vocabulary used in the preparation of business documents, as well as samples of official documents in Russian and English languages.
Is addressed to students, teachers, managers, lawyers
Download