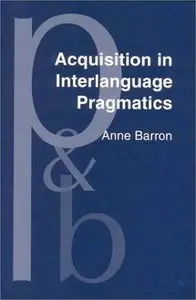 Anne Barron , "Acquisition in Interlanguage Pragmatics: Learning How to Do Things With Words in a Study Abroad"
John Benjamins Pub Co | 2003 | ISBN: 9027253501, 1588113426 | 421 pages | PDF | 3,1 MB
This study reports on an investigation designed to, in some way, meet the need for acquistition research in L2 pragmatics - in particular in the form of longitudinal studies - and also to meet the need for research into the acquisition of L2 pragmatic competence in German. Specifically, it concerns a longitudinal study in which the development of the L2 pragmatic competence of a group of 32 Irish learners of German is investigated over ten months spent studying in the target speech community, Germany. The study is anchored in the field of interlanguage pragmatics, and the approach taken is speech-act based - interest focusing on productions of requests, offers and refusals of offers. The study also draws on research from discourse analysis in the investigation of offer-refusal of offer exchanges. The objective of this study was to record any developments - whether towards or away form the L2 norm - in the L2 pragmatic competence of the current group of learners over time spent in the target community.
Not all books on AvaxHome appear on the homepage.
In order not to miss many of them follow
ebooks section
(see top of each page on AH)
and visit
my blog
too :)
NO MIRRORS according to the rules