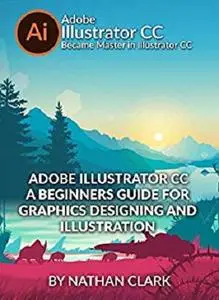 Adobe Illustrator CC a Beginners Guide For Graphics Designing and Illustration by Nathan Clark
English | December 28, 2018 | ASIN: B07MDLSC3H | 491 pages | AZW3 | 15 MB
15 Essential Tips & Tools All Adobe Illustrator Beginners Should Learn This book I've been using Adobe Illustrator for well over 10 years now and I'm obsessed with vector. I'm here to share with you guys my book defines 15 essential tips and tools all Adobe Illustrator beginners should learn, and link you to a tutorial or two which will help you learn how to use them. These items were all tools and tips which have become part of my regular vector process and without them, I think I'd wither and die. Or just not create as well as I'd hope. It's the same thing, really—let's be honest.
Learn illustration, logo design, icon design, typography and more from
So enough, let's get stuck into this list.
Don't Be Afraid of the Pen Tool
The Pen Tool can be a scary tool for beginners. It took me a while to be able to "tame" it, but don't let this put you off. Once you've mastered this tool, you can take on anything in Adobe Illustrator.
I'd highly recommend you check out this fantastic tutorial by Web Design Editor Ian Yates on how to use the Pen Tool. and this book will teach you all about Adobe Illustrator: how to work with layers, create infographics, trace artwork, and use the application's powerful drawing tools to create vector art like a pro. Our Illustrator tutorials range from beginner to advanced. SO DONT WAIT JUST BUY THIS BOOK NOW