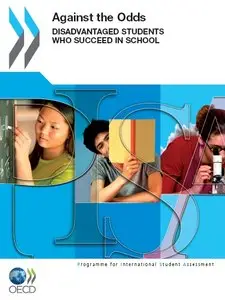 Against the Odds: Disadvantaged Students Who Succeed in School
OECD | 28 June 2011 | ISBN: 9789264089952 9789264090873 | 202 pages | PDF | 6 MB
The report shows that overcoming barriers to achievement is possible, and provides students, parents, policy makers and other education stakeholders insights into what enables socio-economically disadvantaged students to fulfil their potential.
Many socio-economically disadvantaged students excel in PISA. Students who succeed at school despite a disadvantaged background – resilient students – are the focus of Against the Odds.
Resilient students are characterised by positive approaches to learning, for example, having more interest in science or having more self-confidence. The evidence in PISA shows that positive approaches to learning tend to boost the performance of advantaged students more than that of disadvantaged ones. From an equity perspective, therefore, policies aimed at fostering positive approaches to learning ought to target disadvantaged students more than others.
Table of Contents
Executive Summary
Chapter 1 PISA as a Study of Student Resilience
Introduction
Socio-economic background and academic success
Student resilience
The Programme for International Student Assessment (PISA) as a study of student resilience
Structure of the report
Chapter 2 Defining and Characterising Student Resilience in PISA
Introduction
Defining resilient and disadvantaged low-achieving students using PISA
• An international perspective.
• Comparing the shares of resilient students across countries
• A within-country perspective
Similarities and differences of resilient students across countries
Student resilience across science, reading and mathematics
Student resilience among specific demographic groups within countries
• Gender
• Immigrant background.
• Language spoken at home
Conclusion
Chapter 3 A Profile of Student Resilience
Introduction
Students' attitudes and behaviours and the learning environment at school: Definitions and overview
The analysis: A brief description of the models presented in this chapter
Student approaches to learning
• Student motivation to learn science
• Student engagement with science activities outside of school
• Student confidence in their science ability
• Student perspectives towards science-related careers
Student engagement in science courses at school and time spent learning
Learning environment at school
Combined effects of student and school factors on student resilience
Conclusion
Chapter 4 Closing the Gap? Enhancing the Performance of Socio-Economically Disadvantaged Students
Introduction
Models of student resilience
Student approaches to learning
• Improved performance
• Closing the gap
Hours spent and courses taken to learn science
• Improved performance
• Closing the gap
Learning environment at school
• Improved performance
• Closing the gap
Conclusion
Chapter 5 Conclusions and Policy Implications
Introduction
Findings and implications for educational policy and practice
References
Annexes
Annex A1: Defining and characterising student resilience in PISA
Annex A2: A profile of student resilience
Annex A3: Closing the gap? Enhancing the performance of socio-economically disadvantaged students
Annex A4: Conclusions and policy implications
Annex A5: Technical notes
with TOC BookMarkLinks