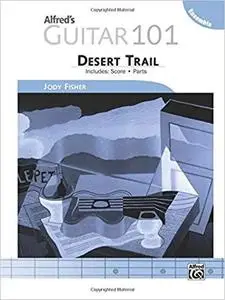 Alfred's Guitar 101, Ensemble - Desert Trail: Score & Parts (101 Series) by Jody Fisher
English | March 1, 2015 | ISBN: 1470617404 | 20 pages | PDF | 7.18 Mb
Alfred's Guitar 101, Ensemble makes a great supplement to any class guitar program. Your students will enjoy rehearsing and performing great-sounding pieces using the skills and concepts they have learned in Alfred's Guitar 101. This flexible guitar ensemble is written for five guitars, but it can easily be adapted for as few as two or as many as eight guitars. A creative teacher can find many ways to use Alfred's Guitar 101, Ensemble: add a bass player, percussion, or other melodic or harmonic instruments–-whatever fills the needs of your students and program.
Desert Trail is a guitar ensemble piece in 4/4 time that switches alternately back and forth from a minor tonality to a major tonality. Since Guitar parts 1-4 all contain eighth notes, students will have a chance to develop their picking and fingerstyle. The Guitar 5 part will help students learn to change chords in a variety of rhythmic situations.