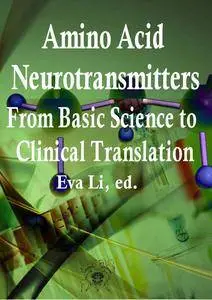 "Amino Acid Neurotransmitters: From Basic Science to Clinical Translation" ed. by Eva Li
ITEvaLi | 2018 | ISBN: 9829480046 9789829480040 | 80 pages | PDF | 6 MB
This volume authors reviewed the role of Notch signaling in RG; considered examples of all three types of antagonism of the ionotropic GABA receptors; applied a comprehensive set of compounds to study how compounds affect Arabidopsis root growth.
Agents that antagonize the action of GABA on ionotropic receptors are widely used to probe the function of this neurotransmitter. Three such agents are in common use: bicuculline, gabazine, and picrotoxinin. These three agents produce convulsions on systemic administration but act in significantly different ways. Bicuculline is a competitive antagonist of GABAA receptors.
In this pharmacological-based study, authors investigate how glutamate and iGluRs antagonists directly affect plant root growth and development.
This prospective study aimed to analyze the usefulness of proton MR spectroscopy in grading of glioma and to correlate various metabolite ratios like choline/creatine, choline/N-acetylaspartate, etc.
Contents
1. Pharmacological Studies with Specific Agonist and Antagonist of Animal iGluR on Root Growth in Arabidopsis thaliana
2. Antagonists of lonotropic Receptors for the Inhibitory Neurotransmitter GABA: Therapeutic Indications
3. Notch Signaling in the Astroglial Phenotype: Relevance to Glutamatergic Transmission
4. Clinical Application of MR Spectroscopy in Identifying Biochemical Composition of the Intracranial Pathologies
1st true PDF with TOC BookMarkLinks