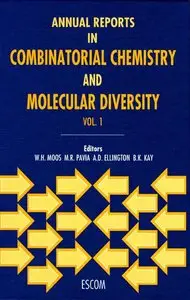 Annual Reports in Combinatorial Chemistry and Molecular Diversity Volume 1
Springer; 1 edition | April 30, 1997 | ISBN-10: 9072199235 | 300 pages | PDF | 4.4 Mb
Combinatorial chemistry and molecular diversity approaches to scientific inquiry and novel product R&D have exploded in the 1990s! For example, in the preparation of drug candidates, the automated, permutational, and combinatorial use of chemical building blocks now allows the generation and screening of unprecedented numbers of compounds. Drug discovery - better, faster, cheaper? Indeed, more compounds have been made and screened in the 1990s than in the last hundred years of pharmaceutical research.
This first volume covers: (i) combinatorial chemistry, (ii) combinatorial biology and evolution, and (iii) informatics and related topics. Within each section chapters are prepared by experts in the field, including, for example, in Section I: Coverage of mixture pools vs. parallel individual compound synthesis, solution vs. solid-phase synthesis, analytical tools, and automation. Section II highlights selection strategies and library-based evolution, phage display, peptide and nucleic acid libraries. Section III covers databases and library design, high through-put screening, coding strategies vs. deconvolutions, intellectual property issues, deals and collaborations, and successes to date.