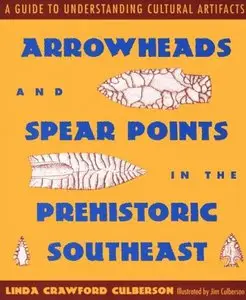 Linda Crawford Culberson, "Arrowheads and Spear Points in the Prehistoric Southeast: A Guide to Understanding Cultural Artifacts"
University Press of Mississippi | 1993 | ISBN: 0878056386 | 117 pages | PDF | 5,4 MB
Seeking to identify through the clues of cultural history, this handbook discusses materials used, the processes of manufacture, and the relationship between the artifacts and the environments, revealing ancient discoveries to be not merely interesting trinkets–but by-products from the once vital societies in the area now known as the American Southeast. Drawings.
Summary: Southeastern US Arrowheads
Rating: 5
I bought this book to go with a set of North Central Florida Prehistoric Arrowheads I found on ebay for my nephew for this Christmas. The book was great and has info that a 9 year old can grasp and ages on up. Encourages the student to go out and look for arrowheads!!
Summary: Great Indian Point Reference
Rating: 5
This is a very helpful reference book to Indian Points. This is a detailed work on how the points were made, what designs were from what region, and dating. This book is recomended for beginners and the experienced collector and a good companion book to "Overstreets Indian Projectile Point Price Guide".
Summary: Thought it was great if you want to learn some basic info
Rating: 5
People who only want to collect artifacts might not like this book since it is not a complete identification guide and does not put monetary values on projectile points. However, if you wish to learn the basic information about what scientific archaeologists have discovered this is a well-written introduction.
Not all books on AvaxHome appear on the homepage.
In order not to miss many of them follow
ebooks section
(see top of each page on AH)
and visit
my blog
too :)
NO MIRRORS according to the rules