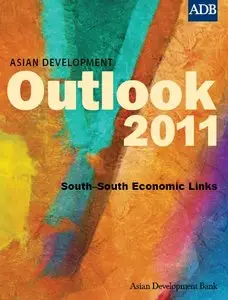 Asian Development Outlook 2011: South-South Economic Links
ADB | 2011 | ISBN: 9789290922858 | 294 pages | PDF | 5 MB
The annual Asian Development Outlook provides a comprehensive analysis of economic performance for the past year and offers forecasts for the next 2 years for the 45 Asian economies that make up developing Asia.
The Asian Development Outlook 2011 emphasizes two important challenges that developing Asia must resolve to sustain the inclusive growth that is needed to eliminate poverty in the region. The immediate problem is tackling rising consumer price pressures. Inflation's insidious effects call for preemptive action to contain it before it begins to accelerate. The poor are the most vulnerable, particularly from rising food prices.
Contents
Foreword
Acknowledgments
Definitions
Acronyms and abbreviations
ADO 2011—Highlights
PART 1: ASIA IN THE UNEVEN GLOBAL RECOVERY
Asia in the uneven global recovery
Twin-track global growth
Firming recovery in developing Asia
Inflation as a growing concern
Solid rebound in the non-Asian developing world
PART 2: SOUTH–SOUTH ECONOMIC LINKS
South–South economic links
The growing weight of the South
Expanding South–South economic links through trade
Expanding South–South economic links through investment
Wider economic links for development
PART 3: ECONOMIC TRENDS AND PROSPECTS IN DEVELOPING ASIA
CENTRAL ASIA
Armenia
Azerbaijan
Georgia
Kazakhstan
Kyrgyz Republic
Tajikistan
Turkmenistan
Uzbekistan
EAST ASIA
People's Republic of China
Hong Kong, China
Republic of Korea
Mongolia
Taipei,China
SOUTH ASIA
Afghanistan
Bangladesh
Bhutan
India
Maldives
Nepal
Pakistan
Sri Lanka
SOUTHEAST ASIA
Brunei Darussalam
Cambodia
Indonesia
Lao People's Democratic Republic
Malaysia
Myanmar
Philippines
Singapore
Thailand
Viet Nam
THE PACIFIC
Fiji
Papua New Guinea
Timor-Leste
Small Pacific countries
STATISTICAL APPENDIX
Statistical notes and tables
with TOC BookMarkLinks