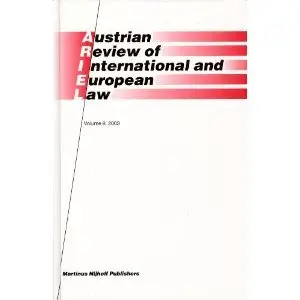 Austrian Review of International And European Law 2003
Brill Academic Pub | June 1, 2005 | ISBN-10: 9004144544 | 598 pages | PDF | 1.7 MB
The Austrian Review of International and European Law is an annual publication that provides a scholarly forum for the discussion of issues of public international and European law, with particular emphasis on topics of special interest for Austria. Its analytical articles focus on theoretical questions, current developments, and emerging tendencies in all areas of the field, including detailed reviews of relevant recent literature. Issues of human rights law and the law of international organisations are also covered. An important integral element of the Review is its digest of Austrian practice in public international law, encompassing judicial decisions, executive as well as parliamentary documents.