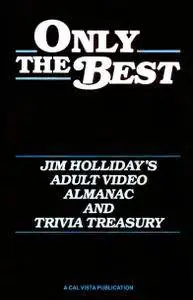 Only the Best: Jim Holliday's Adult Video Almanac and Trivia Treasury by Jim Holliday
English | 1986 | ISBN: n/a, ASIN: B000YE3S2E | PDF | 247 pages | 64.2 MB
From the man who has seen more X-rated films than any other critic - THE ADULT VIDEO ALMANAC is the DEFINITIVE DOCUMENT evaluating exceptional erotic cinema. ONLY THE BEST could only be written by the best… Jim Holliday, including many great films never covered in any previous books or magazines.
Reviews on the best films - rated from superlative to significant. The casts, credits, years and running times are more correct than anything published anywhere. The complete awards notebook covering all the awards ever given. The 111 hottest sex scenes ever filmed. The TRIVIA TREASURY includes the first ever book of X-rated lists, along with tons of other interesting adult trivia tidbits. Shot on video survey covering the latest trends. The most significant stags, loops, sexploitation and all-male films.