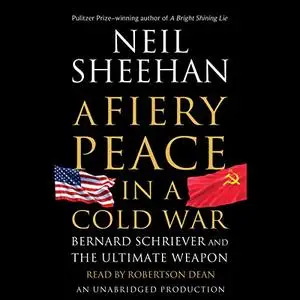 A Fiery Peace in a Cold War: Bernard Schriever and the Ultimate Weapon [Audiobook] by Neil Sheehan
English | September 22, 2009 | ASIN: B002Q1IUNA, ISBN: 0307576698 | MP3@64 kbps | 19 hrs 13 mins | 527 MB
Narrator: Robertson Dean
From Neil Sheehan, author of the Pulitzer Prize - winning classic A Bright Shining Lie, comes this long-awaited, magnificent epic. Here is the never-before-told story of the nuclear arms race that changed history - and of the visionary American Air Force officer Bernard Schriever, who led the high-stakes effort. A Fiery Peace in a Cold War is a masterly work about Schriever's quests to prevent the Soviet Union from acquiring nuclear superiority, to penetrate and exploit space for America, and to build the first weapons meant to deter an atomic holocaust rather than to be fired in anger.
Sheehan melds biography and history, politics and science, to create a sweeping narrative that transports the reader back and forth from individual drama to world stage. The narrative takes us from Schriever's boyhood in Texas as a six-year-old immigrant from Germany in 1917 through his apprenticeship in the open-cockpit biplanes of the Army Air Corps in the 1930s and his participation in battles against the Japanese in the South Pacific during the Second World War. On his return, he finds a new postwar bipolar universe dominated by the antagonism between the United States and the Soviet Union.