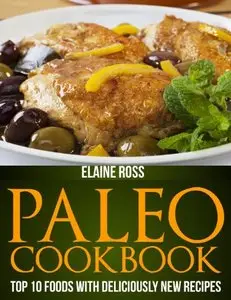 Paleo Cookbook: Top 10 Foods With Deliciously New Recipes To Live Healthy & Lose Weight by Elaine Ross
English | 2013 | IASIN: B00B5E7V6G | 75 pages | EPUB | 0,2 MB
Curious about the Paleo Diet?
Want to know which are the best foods to include in a Paleo Diet and why you should eat more of them?
Need some easy recipes to get started on your journey or just some new Paleo recipe ideas?
All new Paleo Cookbook is a quick guide to The Caveman Diet, Top 10 Foods and the best recipes using these healthy foods. This book includes 30 recipes for Breakfast, Smoothies, Juices, Lunch, Dinner, Condiments, Sides & Desserts that will make you look & feel your best.
This book is for you if you:
1. Want to know which are the best foods to eat
2. Want to lose weight without counting calories, pills or starvation
3. Want a healthy eating plan with real foods & not fad diets
4. Want to look better, sleep better, be lean & energetic
Eating healthy & losing weight can't be easier!
Delicious recipes in this book include:
Salad Of Cantaloupe, Avocado, Arugula & Parma Ham
Sweet Potato Fishcakes
Thai Beef Salad
Steak with Chimichurri Sauce
Broccoli, Sweet Potato & Tomato Curry
Coconut Fish Stew
Moroccan Chicken Tagine
Steamed Fish Parcels With Tomatoes
Almond and Hazelnut Dukkah
Mushroom, Roasted Pepper & Olive Tapenade
Warm Salad of Beet, Chard & Pine Nuts
Steamed Pumpkin & Coconut Custard