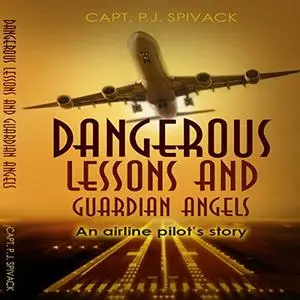 Dangerous Lessons and Guardian Angels: An Airline Pilot's Story [Audiobook] by P. J. Spivack
English | October 20, 2015 | ASIN: B016VA79QU | M4B@64 kbps | 7 hrs 9 mins | 195 MB
Narrator: Tom Lennon
This is an action-packed, true adventure book that spans 35 years of airline flying. There are stories about transporting guns to Biafra in order to help the Independent Nigerians, flying cargo up and down the Berlin Air Corridor during the Cold War, as well as missions deep into Russia. Many of the stories in this book will put you on the edge of your seat; for example, when the author is forced to make a death-defying landing of a four-engine jetliner in total fog. During that landing, the runway never seen until the airplane is brought to a complete stop.
This exciting book also chronicles treasure diving with frightening visits by man-eating sharks, exploring the anchorages off dreamy Caribbean beaches, and fly-fishing for huge trophy trout high in the Andes of Argentina. These true adventures are told in a series of fascinating short stories. Besides featuring dramatic and sometimes humorous tales of adventure, this information packed book also has a chapter on how to become an airline pilot and land that airline job. Finally, there is an inspirational message to be persistent, focused and never give up, even when faced with overwhelming odds.