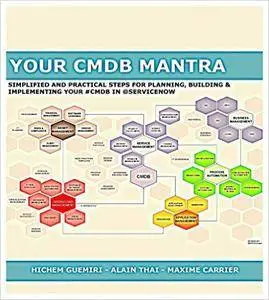 Your CMDB Mantra: Simplified and practical steps for planning, building & implementing Your #CMDB in @ServiceNow (ServiceNow concepts & design Book 1) by Hichem Guemiri
English | Mar. 28, 2016 | ASIN: B01BD045U6 | 398 Pages | AZW3/MOBI/EPUB/PDF (conv) | 41.05 MB
The CMDB in ServiceNow is the Foundation! Like a foundation of a house, or any other construction built to last. Any IT Service Management initiative, especially with ServiceNow product should and must start with a CMDB blueprint model on paper, just like an architecture design for an important structure to be created.
It's important to note that this book is not intended as a replacement for any existing ServiceNow documentation and official wiki pages, but, rather as a supplement source of information gathered over the last decade, based on experience and expert's knowledge.
Using this book, you will learn how to maximize the value and minimize the risks of investing in consolidating your data needed to run your enterprise onto a single trusted source of truth called the CMDB. Top 10 values you can expect from this book:
1. More than 187 diagrams and colorful illustrations to assist you in the design and decisions
2. The steps needed to organize the design workshops and document your conceptual CMDB blueprint model on paper
3. Process guides to help you put in place your CMDB governance and processes
4. Asset management commentaries to make a clear distinction between assets and configuration items.
5. Related ITIL processes, how they interact, and make use of the CMDB
6. How to define, and assign roles and responsibilities in ServiceNow
7. A detailed blueprint of the ServiceNow data dictionary
8. A list of step by step activities to improve the configuration maturity
9. A detailed roadmap and strategy plan to plan, and build the CMDB
10. A list of configuration metrics and reports to implement
Using our methodology described along this book, you will be able to achieve the following goals:
- Define your business objective by implementing a CMDB
- Schedule and execute appropriate design workshops
- Build a project plan and assign the right resources
- Document a roadmap and strategy to meet your business objectives
- Design Your CMDB blueprint on paper and then construct it in ServiceNow
- Identify what to include, how deep and how far to go by phases
- Design the right processes and implement Governance controls
- Easy steps to maintain and operate your CMDB once you go live
- Resolve common issues with discovery, and integrations
- Implement the right metrics and report strategy
PART I: INTRO TO YOUR MANTRA!
1.WHY WE USED THE UNCOMMON WORD MANTRA?
2.WHY YOU SHOULD IMPLEMENT A CMDB
3.WHAT TO CONSIDER BEFORE YOU BEGIN?
4.ESTABLISH YOUR BUSINESS DRIVERS
5.IDENTIFY YOUR OBJECTIVES
6.WRITE YOUR MISSION STATEMENT
7.DOCUMENT YOUR EXPECTED OUTCOME
8.ADDING BUSINESS VALUE TO YOUR ORGANIZATION
9.CONSEQUENCES OF DOING NOTHING
10.HOW WILL YOU GET THERE?

PART II: PROCESS DESIGN
11.THE FOUNDATIONAL PROCESS
12.TIPS FOR IMPLEMENTING SACM PROCESS
13.SACM PROCESS ASSESSMENT
14.SACM PROCESS ACTIVITIES
15.PROCESS ROLES
16.DETAILED PROCESS
17.ASSET VALUE TO YOUR BUSINESS
18.ASSET MANAGEMENT LIFECYCLE
19.ASSET PROCESS ROLES
20.STEPS TO DESIGN A NEW SERVICE

PART III: CMDB BLUEPRINT MODEL
21.BUILD YOUR TEAM
22.MODELING DESIGN POLICIES
23.HOW TO EXECUTE CMDB DESIGN WORKSHOPS?
24.PRACTICAL STEPS TO DOCUMENT THE CMDB BLUEPRINT
25.UNDERSTAND & IDENTIFY YOUR SERVICES
26.IDENTIFY REQUIREMENTS BY SUPPORTED PROCESSES
27.SET CI CATEGORIES
28.IDENTIFY WHICH ATTRIBUTES TO MANAGE BY CI CLASS
29.IDENTIFY CI RELATIONSHIPS
30.AUTOMATE YOUR CMDB

PART IV: SERVICENOW DATA MODEL
31.CATEGORIES
32.CLASSIFICATIONS
33.ATTRIBUTES
34.OWNERSHIPS
35.STATUS
36.BUSINESS SERVICE MAP
37.RELATIONSHIPS
38.REFERENCE DATA
39.ROLES
40.DATA DICTIONARY

PART V: SERVICENOW IMPLEMENTATION
41.ASSET IMPLEMENTATION APPROACH
42.CONFIGURATION ROADMAP MATURITY
43.IMPLEMENTATION BEST-PRACTICES
44.PLANNING TO DEPLOY THE CMDB
45.CMDB STRATEGY
46.SERVICENOW SOLUTION ADAPTATION
47.IMPLEMENTATION ACTIVITIES
48.CHANGE MANAGEMENT PROCESS
49.RISKS & QUALITY