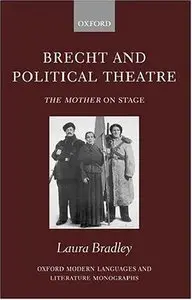 Brecht and Political Theatre: The Mother on Stage
Oxford University Press | August 24, 2006 | ISBN-10: 0199286582 | 280 pages | PDF | 1.8 MB
This production history of The Mother provides substantial new insights into Bertolt Brecht's theatre and drama, his impact on political theatre, and the relationship between text, performance, and politico-cultural context. As the only play which Brecht staged in the Weimar Republic, during his exile, and in the GDR, The Mother offers a unique opportunity to compare his theatrical practice in contrasting settings and at different points in his career. Through detailed analysis of original archival evidence, Bradley shows how Brecht became far more sensitive to his spectators' political views and cultural expectations, even making major tactical concessions in his 1951 production at the Berliner Ensemble. These compromises indicate that his "mature" staging should not be regarded as definitive, for it was tailored to a unique and delicate situation.