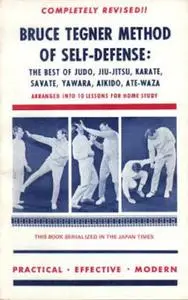 Bruce Tegner Method of Self-Defense: The Best of Judo, Jiu jitsu, Karate, Savate, Yawara, Aikido, Ate-Waza
Thor Publishing Company | 1969 | ISBN: 0874070031 | English | 127 pages | PDF | 31.23 MB
This is one interesting old book that pre-dates the current Mixed Martial Arts (MMA) fade with the publishing of possibly the first multi-disciplined fighting form (which included Judo, Jiu jitsu, Karate, Savate, Yawara, Aikido, and Ate-Waza). This fighting system for practical self-defense in this book was published at a time when martial arts instruction in the United States was hard to come by for the average citizen. The easy to comprehend format of this fighting system, was one of Tegner's main contributions to self-defense; he dispelled a lot of the myths about the martial arts and brought realism to the forefront again with a combative focus. One of these myths was the myth of the "Black Belt as a superman". In this book Tegner's wrote, "Contrary to popular belief, the first black belts were not deadly killers; they were skilled sportsman." The book covers a detailed 21-Day program of instruction that requires the practitioner to learn the fundamental lessons of this self-defense system in a structured format.