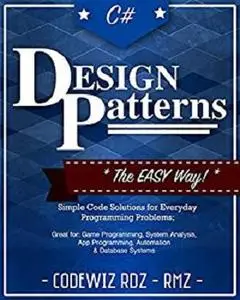 C#: Design Patterns: The Easy Way Standard Solutions for Everyday Programming Problems; Great for: Game Programming, System Administration, App Programming, … & Database Systems (Design Patterns Series) by CodeWiz RDZ
English | April 24, 2016 | ASIN: B01ESBD0AS | 232 pages | AZW3 | 0.65 MB
OVERCOME ANY PROGRAMMING OBSTACLE!
Are you READY to take your programming to the Next Level?
Warning.
Within these pages are special programming solutions
that help you with plenty of common programming problems you'll encounter.
What took YEARS of development,
with collective programming experience
from dozens of skilled programmers,
is now available to you in a single download.
This book is also outfitted in C# -
Microsoft's key programming language for software development.
And best of all, you haven't spend HUNDREDS of dollars for learning this information.
For less than a cup of coffee,Download your copy today
Within this book's pages, you'll find the answers to these questions and more.
Questions and topics include:
- How to auto-update your data - so you don't have to
- How to apply these patterns in another language
- How to create Custom-Built Data Objects
- Important things to know BEFORE implementing certain patterns…
- A Special way to apply what you've learned here
and Much, much more!
World-Class Training
This book breaks your training down into easy-to-understand modules.
You'll learn each essential Design Pattern - one by one.
You'll learn how to apply them in your own code.
You'll have chances to improve your code in any way you like.
So you can write
great code
- even as a beginner!
You'll be happy you did!
FREE BONUS:
Have UNLIMITED future updates to this book FOR FREE!
Get updated NOW!