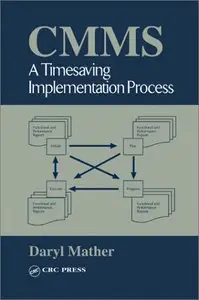 Daryl Mather, "CMMS: A Timesaving Implementation Process"
CRC | 2002 | ISBN: 0849313597 | 160 pages | PDF | 1,3 MB
A prevalent system in large corporations for quite some time, Computerized Maintenance Management System (CMMS) is now penetrating moderate to small corporations on an international level. These corporations need an efficient method to implement this effective but complicated system. However, most of the texts currently available are written by theorists and involve complex approaches. In CMMS: A Timesaving Implementation Process, a practitioner-turned-consultant presents his field-proven, practical approach that can dramatically reduce the amount of time and cost needed to implement and maintain CMMS in any corporation. The book presents a comprehensive template process that can be used in order to implement and maintain CMMS in any business, industry, or facility, thus dramatically reducing the amount of time and the cost needed to implement the process. The text sets up a solid foundation, then moves into the nuts and bolts of the development of the program itself in a smooth, logical format. It provides guidelines for installing quality checkpoints and outlines best practices for common maintenance management functions. The time saved by implementing the procedures and processes outlined here will make the investment in an enterprise level system a safer investment and will guarantee the achievement of benefits that would otherwise be missed.
Not all books on AvaxHome appear on the homepage.
In order not to miss many of them follow
ebooks section
(see top of each page on AH)
and visit
my blog
too :)
NO MIRRORS according to the rules