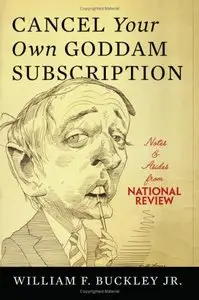 William F. Buckley Jr., "Cancel Your Own Goddam Subscription: Notes and Asides from National Review"
Basic Books | 2007 | ISBN: 0465002420 | 304 pages | PDF | 1,1 MB
Four decades of William F. Buckley Jr.'s famous (and infamous) wit in a volume that will be the political gift book of the season.
Who knew that William F. Buckley Jr., the quintessential conservative, invented the blog decades before the World Wide Web came into existence? National Review, like nearly all magazines, has always published letters from readers. In 1967 the magazine decided that certain letters merited different treatment, and Buckley, the editor, began a column called "Notes & Asides," in which he personally answered the most notable and outrageous letters.
The selections in this book, culled from four decades of these columns, include exchanges with such figures as Ronald Reagan, Eric Sevareid, Richard Nixon, A. M. Rosenthal, Auberon Waugh, John Kenneth Galbraith, and Arthur Schlesinger Jr. There are also hilarious exchanges with ordinary readers, as well as letters from Buckley to various organizations and government agencies.
Summary: Conservatism before it went crazy
Rating: 5
I miss William F. Buckley. This book is a wonderful collection of his best. It's so nice to hear an intelligent conservative speak on the issues, rather than the crackpot nutjobs that I occasionally listen to on the radio now.
Not all books on AvaxHome appear on the homepage.
In order not to miss many of them follow
ebooks section
(see top of each page on AH)
and visit
my blog
too :)
NO MIRRORS according to the rules