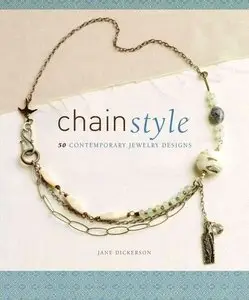 Chain Style by Jane Dickerson
Interweave | 2009 | HQ PDF | ISBN: 1596681500 | 129 pages | 101 Mb
Incorporating chain as a key element in jewelry design is becoming increasingly popular, and this handy instructional assists jewelry artists in discovering the ease and affordability of manipulating the medium to produce stunning and fashionable pieces. Using commonly found chain metals, such as brass, copper, sterling silver, gunmetal, aluminum, base metal, and goldtone, this extensive and accessible reference presents 50 fun and creative methods for showcasing chain styles to make even the most inexperienced designer look like a pro. Covering basic essential techniques–including opening and closing jump rings, cutting, oxidizing, and hammering–this informative and engaging manual focuses on simple chain styles that can be constructed to form clean, modern, wearable art.