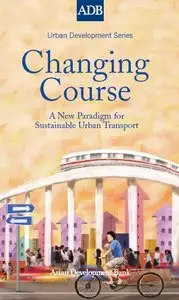 Changing Course: A New Paradigm for Sustainable Urban Transport
ADB | 2009 | ISBN: 9789715618090 | 70 pages | PDF | 1 MB
In this book, ADB outlines a new paradigm for sustainable urban transport that gives Asian cities a workable, step-by-step blueprint for reversing the trend and moving toward safer, cleaner, more sustainable cities, and a better quality of urban life.
Most Asian cities have grown more congested, more sprawling, and less livable in recent years; and statistics suggest that this trend will continue. Rather than mitigate the problems, transport policies have often exacerbated them.
Contents
Foreword
Acknowledgments
Abbreviations
Executive Summary
Part A: The Need for a New Paradigm
What Is the Problem?
Today's predicament
Tomorrow's challenge
What went wrong
What Must Happen Now?
Evidence from sustainable cities
A city typology of transport development paths
ADB's new paradigm
Part B: Content of the New Paradigm
Management
Institutions and governance
Institutional and governance–related framework
Implementation processes
Financing
Affordability and priorities
Public–private partnerships
Innovative financing
Financing framework
Policy
Sustainable transport policy
Avoid: Reducing the need for travel
Shift: Changing modal choice
Improve: Increasing the energy efficiency of vehicles and fuels
Rethinking megaprojects
Integrated land development
Poverty reduction
Conclusion
with TOC BookMarkLinks