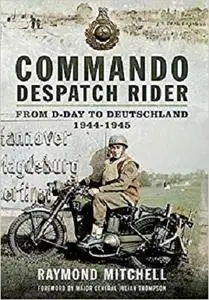 Commando Despatch Rider: From D-Day to Deutschland 1944-45 by Raymond Mitchell
English | April 3, 2009 | ISBN: 085052797X | 234 pages | EPUB | 2.19 Mb
In 1944, Ray Mitchell landed in Normandy with his unit 41 Royal Marine Commando. His role in bringing the Third Reich to its knees was that of dispatch rider. Often operating alone in totally unfamiliar and hostile terrain, he and his motor bike delivered vital messages to forward units. This is a fighting soldier's account of war - warts and all and describes in vivid terms his and his fellow commandos' experiences and emotions.
Over the next ten months the commandos were in the thick of the action in France, the Low Countries and Germany itself. Of particular note was the amphibious landing on the Walcheren Peninsula where the beleaguered German garrison fought fiercely to deny the Allies the vital port of Antwerp.