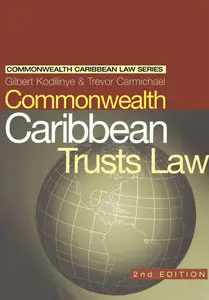 Commonwealth Caribbean Trusts Law
Routledge-Cavendish | March 2002 | ISBN-10: 1859415407 | 400 pages | PDF | 3 MB
The law of trusts is a subject of growing importance in the Commonwealth Caribbean. The importance of the Caribbean as a region of tax havens cannot be overestimated and, in some of these jurisdictions, statutory provisions have introduced new principles concerning a variety of matters. This book examines the relevant Caribbean legislation and case law, together with the general principles of trust law as applied in the English courts and in other Commonwealth jurisdictions. Although this work has been conceived primarily as a book for students reading for the LLB degrees in various institutions of higher learning in the region, it is of interest to practitioners of trust law.