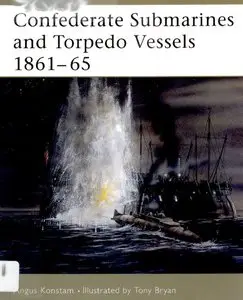 Confederate Submarines and Torpedo Vessels 1861-65 By Angus Konstam
Publisher: Os Publishing 2004 | 48 Pages | ISBN: 1841767204 | PDF | 12 MB
The primary Union strategy during the American Civil War was a massive naval blockade of the entire Southern coastline of the Confederacy, and it was in the effort to counter this blockade that the Confederates developed their first submarines and torpedo boats. This book traces the development of these new technologies, including the CSS 'Little David' and 'Hunley' - respectively the first torpedo boat and submarine to sink an enemy warship. The wreck of the 'Hunley' was raised in 2000, and this is the first book ever to integrate details of its recovery with an account of Confederate submarines in action. Angus Konstam has worked as the curator of weapons in the Royal Armouries at the Tower of London, as well as Chief Curator of the Mel Fisher Maritime Museum in Key West, Florida. His maritime titles include New Vanguard 92: 'Confederate Blockade Runner 1861-65' and he has written over 20 books. Angus lives in London, where he runs a freelance museum consultancy business alongside being an historian and writer. Tony Bryan is a freelance illustrator of many years experience. He initially qualified in Engineering and worked for a number of years in Military Research and Development, and has a keen interest in military hardware - armour, small arms, aircraft and ships. Tony has produced many illustrations for partworks, magazines and books, including a number of titles in the New Vanguard series.
NO PASSWORD


!!!No Mirrors below, please! Follow Rules!