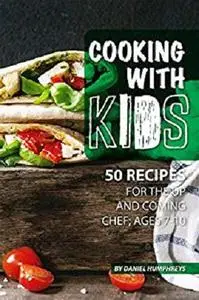 Cooking with Kids: 50 Recipes for the Up and Coming Chef; Ages 7-10 by Daniel Humphreys
English | January 24, 2019 | ASIN: B07N3X71HQ | 103 pages | AZW3 | 6.08 MB
Is your kid between the ages of 7-10 and interested in cooking? Whether they are a novice or have been cooking for years this cook for kids provides for all. Light dinners, amazing snacks, colorful casseroles and salads, novel breakfasts and brunches there is something for everyone in here. Plus, every original delicious meal is made with inexpensive, easy to find ingredient mean to expand the horizons of the up and coming chef.
An excellent resource full of practical information and easy recipes to enhance the learning and make it fun! You might find yourself making some of these dishes!