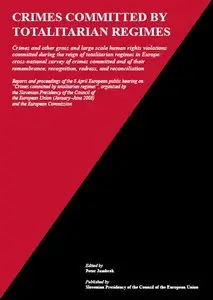 "Crimes Committed By Totalitarian Regimes" ed. by Peter Jambre
EUROPEAN Public Hearing on Crimes Committed by Totalitarian Regimes
Slovenian Presidency of the Council of the European Union | 2008 | ISBN: 9612389772 9789612389772 | 325 pages | PDF| 3 MB
Crimes and other gross and large scale human rights violations committed during the reign of totalitarian regimes in Europe: crossnational survey of crimes committed and of their remembrance, recognition, redress, and reconciliation.
Reports and proceedings of the 8 April European public hearing on "Crimes committed by totalitarian regimes", organised by the Slovenian Presidency of the Council of the European Union (January–June 2008) and the European Commission
TABLE OF CONTENTS
PREFACE
Lovro Šturm, Slovenian Minister of Justice
INTRODUCTION - Jacques Barrot, Vice-President of the European Commission for Justice, Freedom and Security
I. HISTORY, CHARACTERISTICS AND CLASSIFICATION OF TOTALITARIAN REGIMES
Ronaldas Racinskas. Historical justice for Europe: why, when and how?
Tunne Kelam. Suggestions on assessment of totalitarian communism
Jera Vodušek Starič. The making of the communist regime in Slovenia and Yugoslavia
Damjan Hančič and Renato Podbersič. Totalitarian regimes in Slovenia in the 20th century
Mateja Čoh. Characteristics of the judicial system in Slovenia between 1945 and 1951
Tamara Griesser Pečar. The Roman Catholic Church in Slovenia under three totalitarian regimes
Dainius Žalimas. The need for equal treatment of Nazi and Soviet crimes
Vytautas Landsbergis. Hypocrisy of discrimination among victims of totalitarian crimes
II. TOTALITARIAN CRIMES: CROSS-NATIONAL SURVEY
Heinrihs Strods. Crimes committed in Latvia by the occupation regimes of the USSR and Germany (1940–90)
Jaan Tamm and Helle Solnask. Political repression in the 1940's and 1950's in Estonia
Dalia Kuodyte. Lithuanian victims of communist occupation
Maciej Korkuć. Poland – the victim of two totalitarian regimes
Marius Oprea. The Securitate legacy – terror in Romania
Tamás Stark. A topic doomed to oblivion: foreign prisoners in Soviet custody – with special regard to the fate of Hungarian civilian internees
Boris Mlakar. Repression over the Slovenian people by the German Nazism
Gorazd Bajc. Crimes committed by the Fascist regime in the Slovene territory
Ljubo Sirc. Totalitarian features of the judiciary in the Republic of Slovenia (1945–90)
Milko Mikola. Communist concentration camps and labour camps in Slovenia
Mitja Ferenc. Secret World War Two mass graves in Slovenia
Milko Mikola. Communist repression of "interior enemies" in Slovenia
III. TRANSITIONAL JUSTICE: PROSECUTION AND REDRESS OF INJUSTICE
Lauri Mälksoo. Reparation and reconciliation in international law: the view of an Estonian lawyer
Dariusz Gabriel. Prosecution of Nazi and Communist crimes in Poland
Ekaterina Salkova. On rehabilitation and remedy measures in Bulgaria for persons repressed from 1944 through 1989
Carlos Closa. Transitional justice in Spain
Jože Dežman. Communist repression and transitional justice in Slovenia
Pavel Jamnik. Post-World War Two crimes on the territory of Slovenia: police investigation and proof regarding criminal offences
that do not fall under the statute of limitations
Marius Oprea. About ideologies, institutions and death
IV. REMEMBRANCE, RECOGNITION AND PUBLIC AWARENESS OF TOTALITARIAN HISTORY
Andreja Valič. Is it wise to discuss themes that hurt?
Girts Valdis Kristovskis. The need for a reappraisal of the European history
Harro Bebert. Active remembrance and regional identity: European Union promotion of an international project with participants from Bohemia, Eichsfeld and Upper Silesia
Toomas Hiio. "Vergangenheitsbewältigung"
Lukasz Kaminski. An overview of educational activities with respect to crimes committed by totalitarian regimes: the Polish experience
Stephan Parmentier. Research, teaching and consultancy in the field of transitional justice and human rights
Sandra Kalniete. Divergences within European politics with regard to communist totalitarianism
Wojciech Roszkowski. Notes on the open issue of united European history
Toomas Hiio. Possible common European history school textbook
Emanuelis Zingeris. Transition from the "Gulag Empire" to the Western civilisation – issues of remembrance and education
Kathinka Dittrich van Weringh. Promoting public awareness of totalitarian crimes
V. RECONCILIATION: ON HANDLING THE TRAUMATIC PAST
Ana Filipa Vrdoljak. Remembering and reconciliation: an international law perspective
Mikhail Narinski. Crimes of totalitarian regimes: in the search for reconciliation with the past
Guy De Vel. The role of European institutions in the process of reconciliation
Marianne Birthler. Reconciliation and totalitarian crimes: which lessons can be drawn from a successful experience?
Renata Uitz. Instead of success: hope for truth – at best
CLOSING REMARKS - Jonathan Faull, European Commission, Director General, Directorate-General for Justice, Freedom and Security
END-NOTE FROM THE EDITOR - Peter Jambrek
APPENDICES
"United Europe – United History" Initiative of the 22 January 2006 conference organised at the European Parliament
Statements by the Council to be inserted in the minutes of the Council at the time of adoption of the Framework Decision (Justice and Home Affairs Council, 19–20 April 2007)
Agenda of the Hearing
Contribution of the 1st European hearing on "Crimes committed by totalitarian regimes", Brussels, 8 April 2008 (presented by a number of participants to the Hearing)
INDEX OF NAMES AND ITEMS
with TOC BookMarkLinks