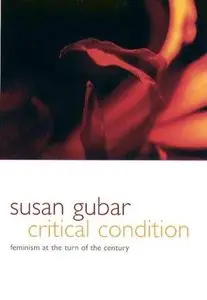 Critical Condition: Susan Gubar
Columbia University Press | February 15, 2000 | ISBN-10: 0231115806 | 256 pages | PDF | 1.1 MB
Is feminism dead, as Time magazine famously inquired? Has critical feminist inquiry in the academy become either so fragmented or so specialized as to be irrelevant to women's real lives? Finally, and most poignantly, have intergenerational friction and the quest for political correctness destroyed the common ground that feminists once believed they shared? Gubar, who, with Susan M. Gilbert, was one of the founders of contemporary feminist literary criticism (Madwoman in the Attic; No Man's Land), turns her attention to the questions now vexing academic feminism(s). In essays written over the course of the last decade, and variously devoted to the intersection of feminist criticism and race, lesbian studies, Jewish studies and the situation of established female university faculty, Gubar struggles toward a conclusion that is largely optimistic, if decidedly nuanced.