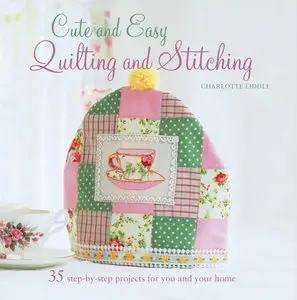 Cute and Easy Quilting and Stitching by Charlotte Liddle
Publisher: CICO Books | 2011 | English | ISBN-10: 1907563326 | 128 pages | JPG | 115 Mb
Beautify your home with Charlotte Liddle's 35 gorgeous projects, all using quilting, applique and embroidery Start with Sweet Dreams, where you will discover pretty decorations for the bedroom, such as the cot quilt that will keep a baby warm and comfortable. Kitchen Essentials has ideas to decorate the table with a touch of vintage chic, and for the ultimate touch of 1950s housewife glamour, why not make the apron that's ideal for the perfect hostess? Next is Pretty Gift Ideas with presents and decorations for all occasions, from a picture frame with flower embroidery to bunting to hang in the garden for a summer barbecue. Finally, the Cute Clothes and Accessories chapter is full of pieces that are sure to catch the eye, like the applique embellished skirt or the stylish evening bag. All the projects come with clear instructions and step-by-step illustrations, so even novice stitchers will be able to make something they're really proud of. Plus, if you need to brush up on a technique, there's a comprehensive section with all you'll need to know.