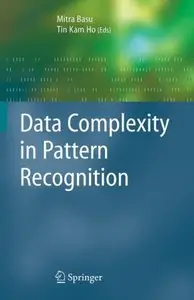 Data Complexity in Pattern Recognition (Advanced Information and Knowledge Processing) By Tin Kam Ho
Publisher: Springer-Verlag 2006 | 300 Pages | ISBN: 1846281717 | PDF | 5 MB
Machines capable of automatic pattern recognition have many fascinating uses in science & engineering as well as in our daily lives. Algorithms for supervised classification, where one infers a decision boundary from a set of training examples, are at the core of this capability. This book takes a close view of data complexity & its role in shaping the theories & techniques in different disciplines & asks: * What is missing from current classification techniques? * When the automatic classifiers are not perfect, is it a deficiency of the algorithms by design, or is it a difficulty intrinsic to the classification task? * How do we know whether we have exploited to the fullest extent the knowledge embedded in the training data? Uunique in its comprehensive coverage & multidisciplinary approach from various methodological & practical perspectives, researchers & practitioners will find this book an insightful reference to learn about current available techniques as well as application areas.
NO PASSWORD


!!!There are 4 Links, so - no mirrors more!!!